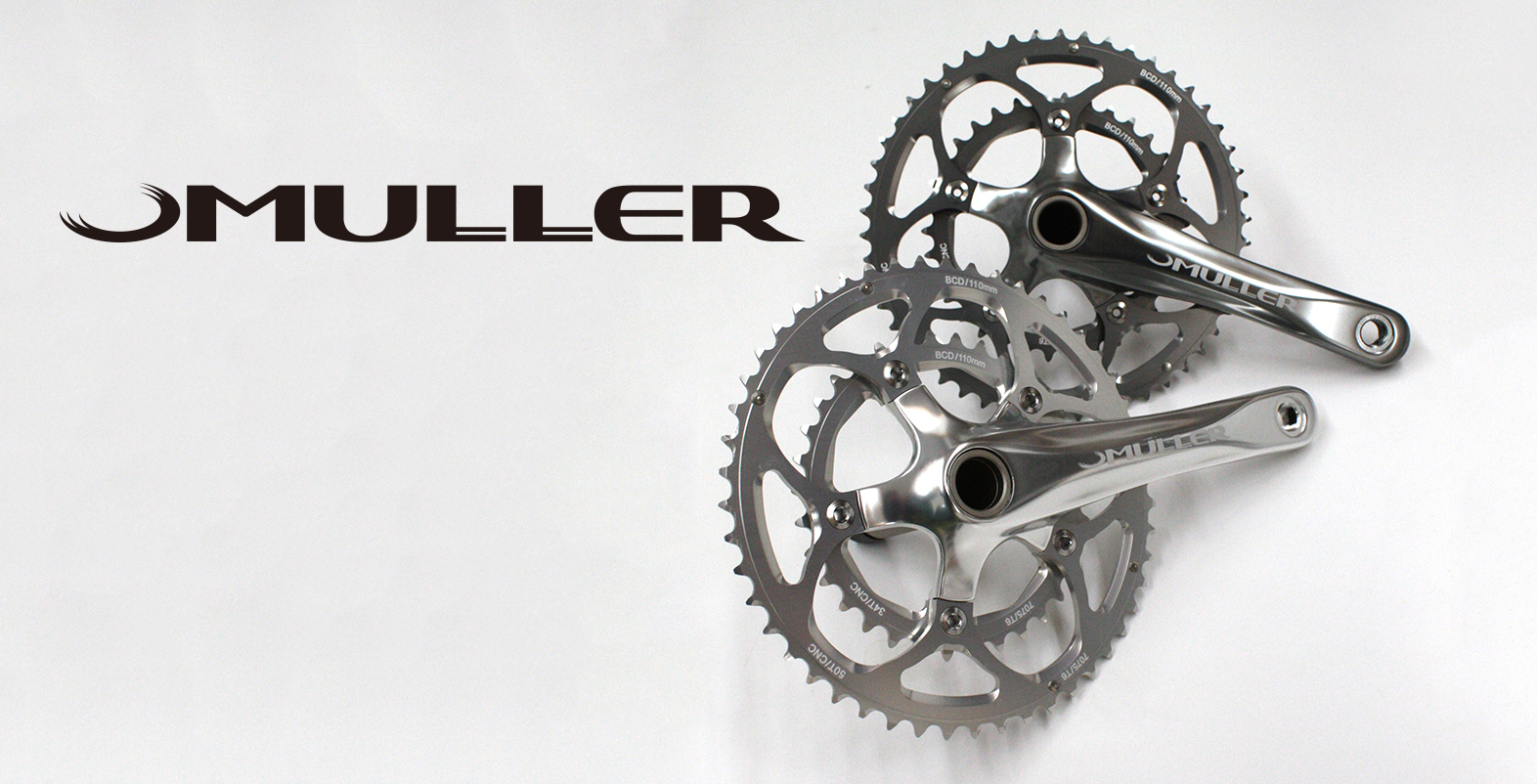 MULLER Crankset 
Sports style 5 arm compact crankset, designed to match our metal bikes.
Silver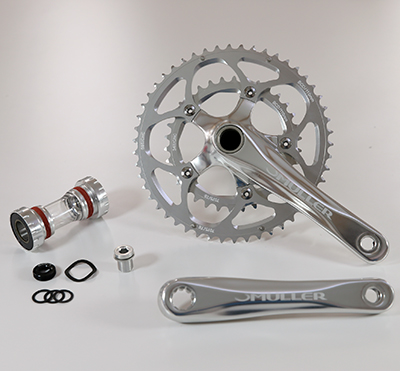 MODEL: MULLER Crankset
SIZE: 50-34T; 110mm BCD, 170mm length only
BB: 2 piece (English BB included)
MATERIAL: Aluminium
COLOUR: Silver
WEIGHT: 789g (crankset), 142g (BB)
FOR: MTi64, MTi325, M465, M630,ML921, ML725, MLvigore, MSP, MT853, ML853, MLcitta and other English BB models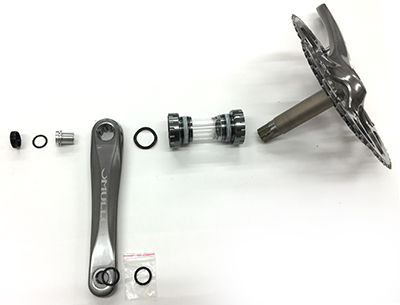 BB, Crankset Installation:
Install BB into frame, use plastic sleeve if running internal cables.
Insert right crank arm; install wave washer, left crank arm, crank bolt as shown in photo above.
Insert o-ring into black plastic cover; install in left crank arm.
Install pedals, using washers if necessary.
28,000JPY (no tax)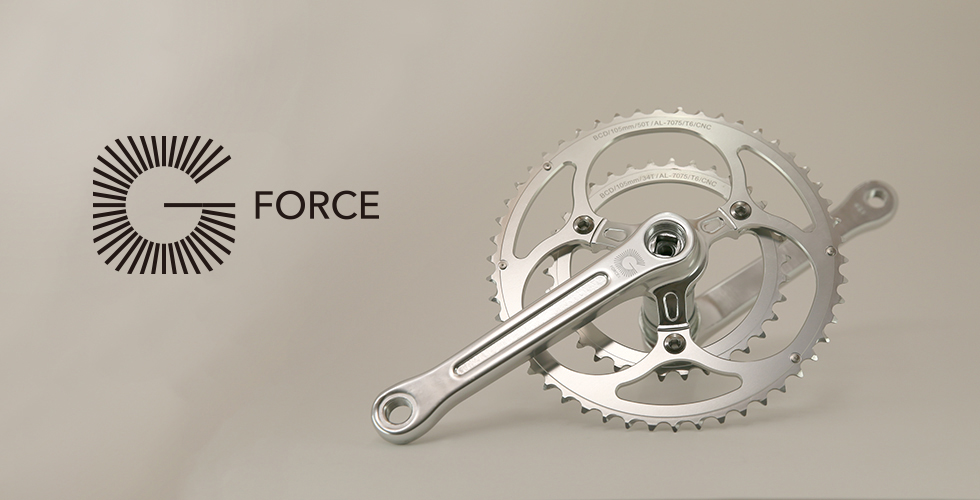 G-FORCE Vintage Crankset
An elegant 3 arm crankset for classic style bikes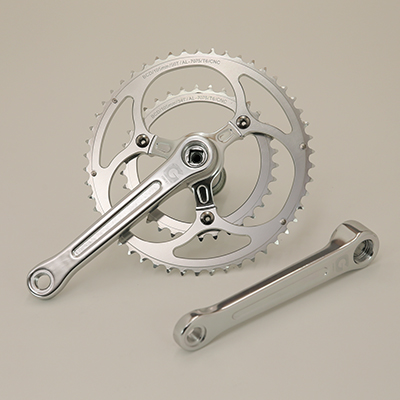 MODEL: G-FORCE Vintage Crankset
SIZE: 50-34T; 105mm BCD, 170mm length only
BB: Square Taper (Tange English BB included)
MATERIAL: Aluminium
COLOUR: Silver
WEIGHT: 602g (crankset), 317g (BB)
FOR: MTi64, MTi325, M465, M630,ML921, ML725, MLvigore, MSP, MT853, ML853, MLcitta and other English BB models
[Out of stock now]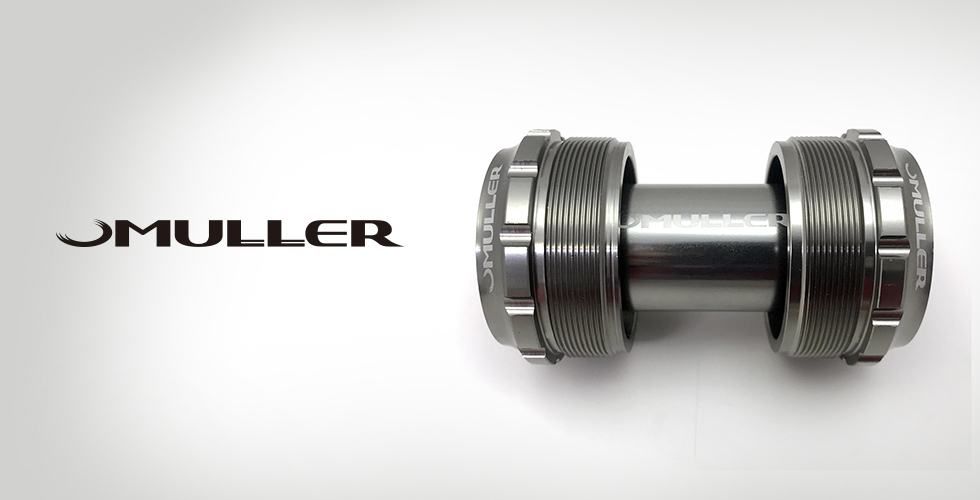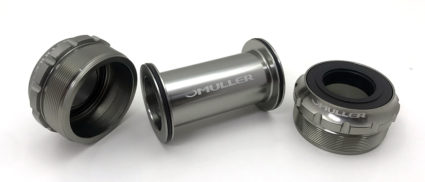 MULLER T47-68-24 BB
Narrow sleeve for internal cable routing
Size: T47 68mm threaded BB
Fits Φ24mm axle cranksets
Material: Aluminium
Weight: 137g
Requires 12notch/50.4mm tool (Park Tool BBT-47, etc.)
15,000JPY (no tax)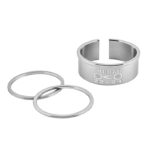 Spacer for MULLER 5arm crankset
1,000JPY (no tax)
MULLER Titanium T47-68-73 24 BB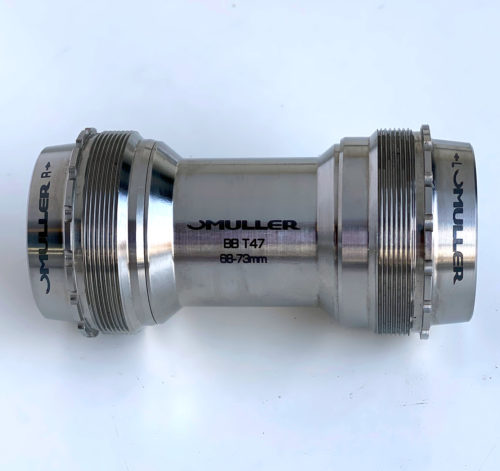 Size: T47 68-73mm threaded BB
Fits Φ24mm axle cranksets
Material: 6Al4V Titanium
Weight: 139g
37,800JPY (no tax)